Silk Islands at Twilight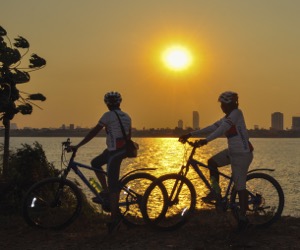 Duration: 4 Hours (approx.)
Product code: APKV16
Our Silk Islands at Twilight tour weaves along hidden trails past small farming communities, schools, pagodas and silk shops to offer a true glimpse into village life in the Cambodian countryside. Villages here thrive on the fertile soil to grow fruit and vegetables and then weave silk and cotton in between farming cycles. And all of
this is only 5km from the heart of Cambodia's capital city.
Created by the powerful flow of the Mekong River, the islands are isolated by the lack of bridges, but ferry connections provide easy access for villagers and for our cycling groups.
The riding is flat and easy for anyone who can ride a bike. Our guides take great care to ensure a
your safety while introducing you to the farmers and weavers who call these islands home.
The bike tour ends aboard a local ferry to Phnom Penh, arriving just after sunset into the center of town, now
ablaze with the lights of the big city, a stunning contrast to the scenes witnessed on the islands. Once on the mainland you'll be treated to a fun dinner at a traditional Khmer noodle shop along the streets of
Phnom Penh. It's a short hop back to the Grasshopper shop.
Join us for a relaxing afternoon and evening ride, just minutes from Phnom Penh.